"Grrreaatt!" said Olivia, "this book is gonna be mine forever!" Isla looked on with an orange-slice smile. "Yeah! I want another one book. More book please!" That was the consensus of my two little girls, and I had to agree.
When I was asked to review the two books with little girls, I jumped at the chance. And when I found out that the books were by Leslie Patricelli, well, let's just say I checked the mail with capricious anticipation every day. My girls and I were not disappointed.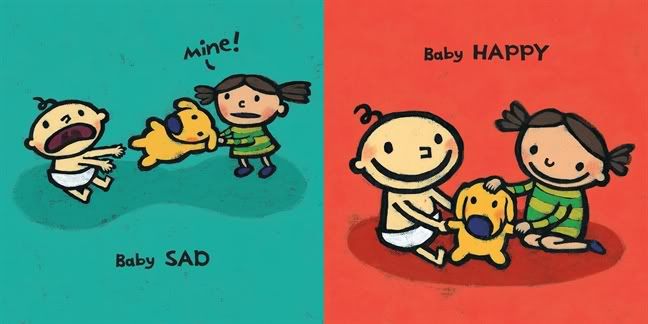 Baby Happy, Baby Sad was the first book we read at bedtime that night. With cheerful, bold illustrations and a deceptively simple storyline, the book produced big smiles and great reactions from the first page to the last.
It's the story of all the different things in life that can make a baby happy then sad, and vice-versa. On one occasion, baby's favorite toy is taken away – baby sad. Then it's returned, making baby happy and hopefully teaching our audience a thing or two about sharing. Being alone makes baby sad, but a hug from mommy makes it all better. Splashing in the mud; baby very happy. Getting a bath? I think you know the answer to that one.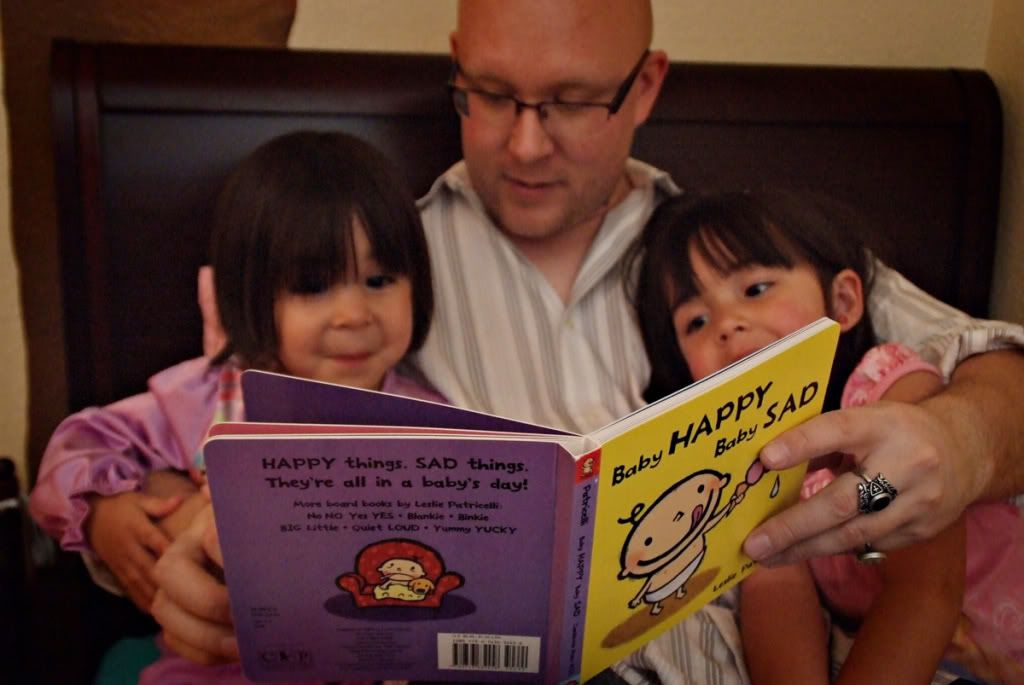 Aimed at the 1 to 3 year-old audience, my two year-old instantly loved the book. But my four year-old laughed in all the right places, too. And when I asked a few probing questions about some of the things we had learned, I got all the right answers. "It's good to share" said Olivia. "Yes it is" I said with a smile.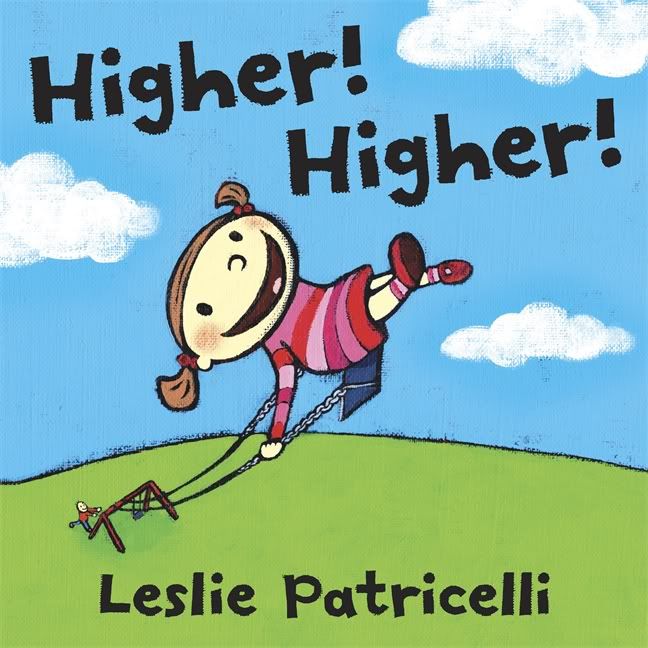 Higher! Higher! was up next, and was aimed at the slightly older 3 to 7 year-old audience (although I have to say, my girls enjoyed both books with the same enthusiasm).
Higher! Higher! is the unexpectedly outlandish story of a little girl with one wish; a wish any parent or obliging relative will know all too well. She wants to go higher. Higher. HIGHER! And Leslie Patricelli takes this premise to wonderfully inventive extremes, surprising even myself as we read through the book.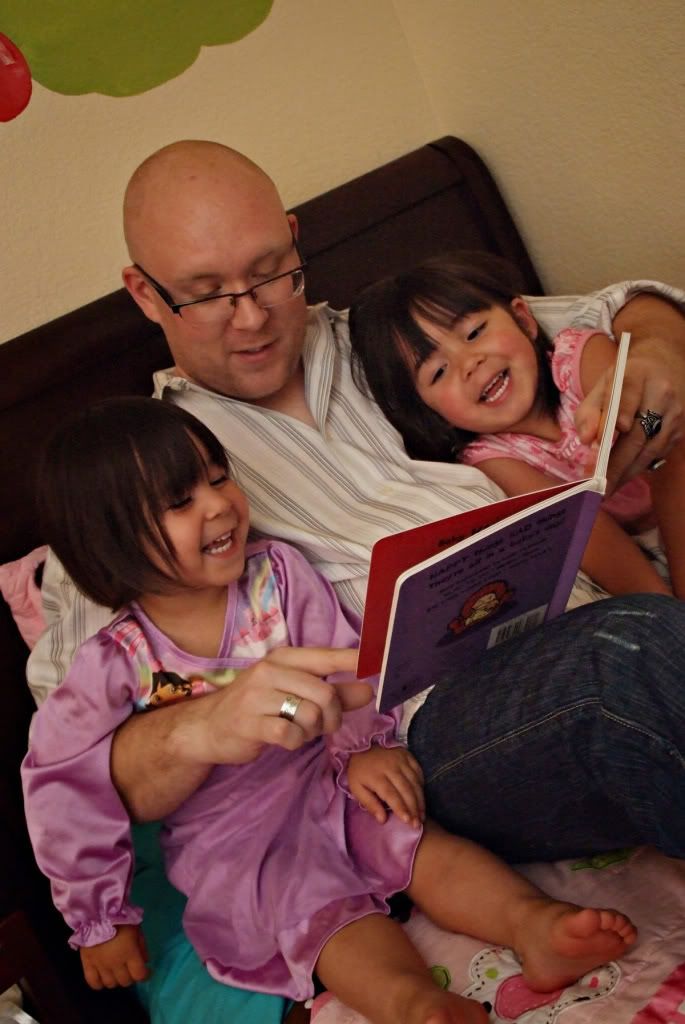 From seeing the tops of mountains, to swinging into outer space for a meet 'n' greet with aliens, it's a voyage of discovery for the little girl and the reader. As we turned to the last page, I was already getting the shouts of "again, again" from Olivia and Isla.
As it turned out, we already had several books in the house from Leslie Patricelli, including Blankie ( a huge hit with both of my blankie-carrying kids). And after reading more of Patricelli's work, I know we'll now be starting a library filled with her creative stories. Both Baby Happy, Baby Sad and Higher! Higher! come with my highest recommendation.
Baby Happy Baby Sad (Leslie Patricelli board books)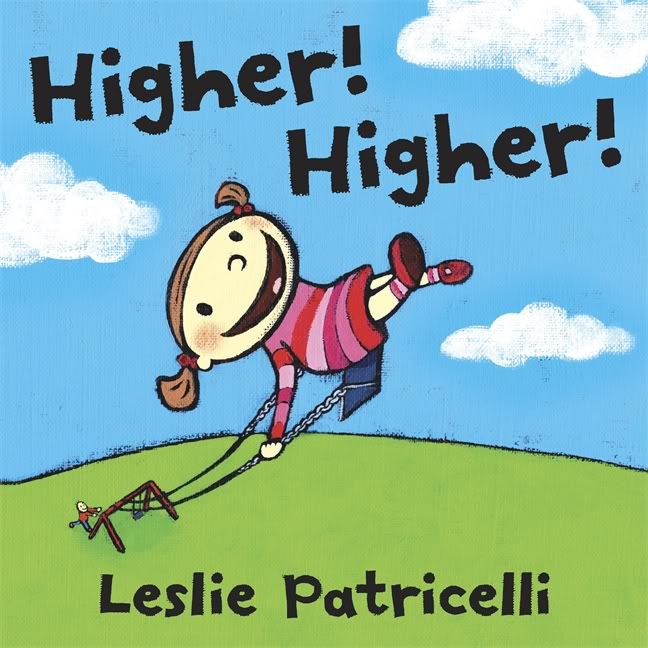 Higher! Higher!
You can find both books at trusted seller Amazon. Or, you could always do the Wisebread thing and rent them from your local library.